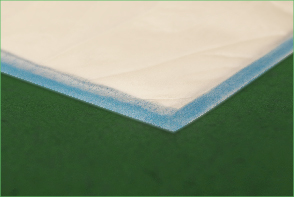 ABSOprim
ABSOprim dressing is a soft multi-layered pad providing optimal absorption and retention of wound exudate.
Advantages
- Excellent absorption, retention capabilities
- Atraumatic and painless dressing removal
- Reduced intervals of dressing changes
- Good protective and ventilating wound cushion
Indications for use
- ABSOprim dressing is indicated for absorbing the wound exudates from medium to highly exuding wounds. It can be used under compres- sion bandages.

How often should the dressing be changed?
- It depends on the state of the wound. In case of sloughy or heavily exuding wounds, the dressing should be changed daily. For lower exuding wounds, the dressing could be left in place for longer time.

Cautions when applying
- The dressing should not be used on dry wounds or wounds covered with hard necrotic tissue.
- Wounds that show signs of clinical infection may be dressed with ABSOprim but the dres- sing should be changed daily and the use of systemic antibiotic therapy considered.

Material
- Cellulose, non-woven fabric

Sterilisation
- Ethylene oxide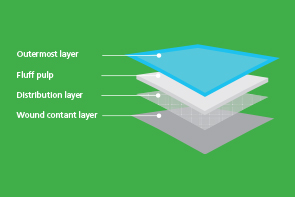 ABSOprim dressing consists of four layers acting in a precise sequence
- Soft non-woven wound contact layer
- Distribution layer has a high capillary activity, directing exudate evenly upwards into the central absorbent core
- Absorbent layer of fluff pulp
- Fluid-repellent backing prevents external contamination of the wound and protects clothes and bed linen from exudate leakage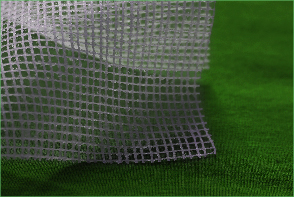 WOUNDprim
WOUNDprim is a low adherent wound dressing made of leno gauze, that allows wound exudates to pass through, and impregnated with white soft paraffin jelly, which makes it non-adherent to the surface of a granulating wound.
Advantages
- Paraffin jelly forms a separate layer between wound and gauze preventing sticking with the wound and provide fast recovery.
- WOUNDprim protects newly formed tissue and minimizes patient pain during changing the dressing.
- The leno-weave gauze allows the passage of the exudates to be absorbed by the secondary dressing, so the exudates do not dry on the wound bed.
- The dressing can be cut to different sizes.
Indications for use
- WOUNDprim should be used as a primary wound contact layer with an appropriate secondary dressing in the treatment of burns, ulcers, skin grafts and a variety of traumatic injuries.
- The dressing can also be used as a transfer medium for skin during grafting.

How often should the dressing be changed?
- The frequency of dressings changes will depend entirely upon the nature of the wound. If paraffin gauze dressing is left in position for prolonged periods of time, it can become adherent and cause tissue damage upon removal.

Cautions when applying
- Although there are no absolute contraindications to the use of WOUNDprim, if the dressing is placed upon a heavily exuding wound, its semi-occlusive nature may cause tissue maceration by preventing the free movement of exudates away from the surface of the wound.

Material
- Cotton, paraffin

Sterilisation
- Gamma irradiation